Top 3 Best Selling Rolex Watches | Daytona, GMT-Master II and Yachtmaster II
Top 3 Best Selling Rolex Watches
Daytona, GMT-Master II and Yachtmaster II
Rolex would always be among the most recognized and reputed timepiece brands in the industry. So, it would not be a surprise if you choose to own a Rolex watch. The thing is there are simply so many great options to choose from in this line of timepieces making it quite hard to select that perfect item to suit you. But if you are after the best selling ones, it would be easier for you since there are three options that you can choose from.
••••••••••••••••••••
Best Selling Rolex Watches
In the list below, you will see the top most popular and best selling of the Rolex watches and the information that made it so.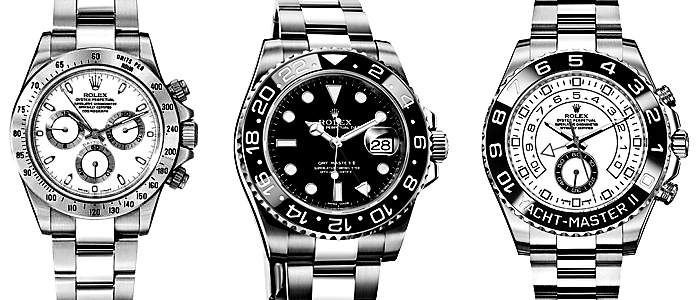 Top Most Popular From the Rolex Line
(1) ROLEX DAYTONA
The timepiece is considered as among the most renowned and iconic of the Rolex watches. It was designed and made in 1963 to serve as an exact timing tool specifically engineered for professional drivers of race cars. Rolex Daytona is built with a reliable and accurate chronograph along with a tachymeter scale meant for precisely measuring speed. It is an admirable watch that instantly made a name in the world of motor sports.
The timepiece is boastfully appreciated because of its high quality construction along with a state-of-the-art timekeeping mechanism. The combination of these guaranteed its lifetime longevity. If you are looking for a unique timepiece with a history to match, then this would be the ideal watch for you. Rolex Daytona is highly valued for its speed, performance and luxury value.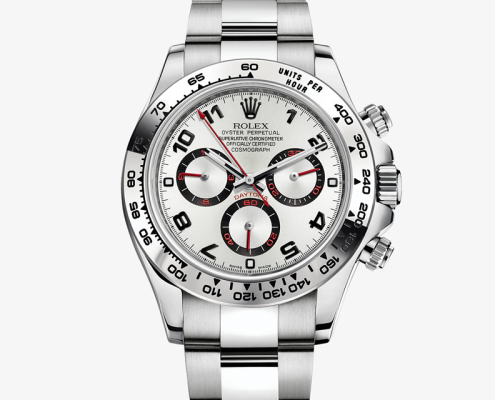 (2) GMT MASTER II
It is the perfect option for international pilots who are looking for a timepiece that they can wear in every flight they make for a purpose. The watch serves as a genuine aviator's timepiece complete with cutting-edge features and excellent time-keeping mechanism. GMT-Master II has long proven its reliability, worth and priceless value in every long distance travel an international pilot has sported it. It has a rotating 24 hour advanced bezel along with a distinct 24 hour hand. The product offers more than capable tracking features, which allow the user to know the time in 3 time zones at just a single glance.
It features a gold-toned bracelet and dial in green which made it show just enough elegant look that makes it ideal both in classy and formal occasions. The timepiece is specifically designed to be worn by pilots, especially those who are after superior luxury.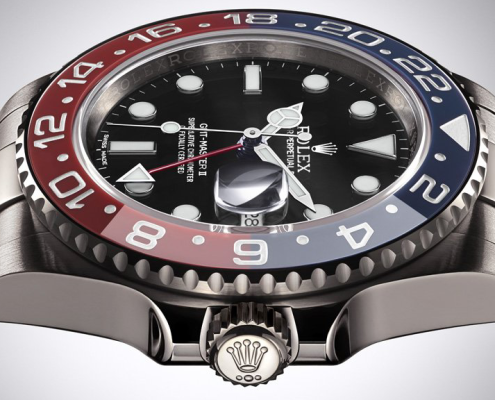 (3) YACHTMASTER II
The heart of the timepiece features the Caliber-4160 movement that contains 360-individual components. Its movement is designed with an innovative and programmable countdown featuring a mechanical memory. From the name itself, one can conclude that it is specifically designed for yachting enthusiasts.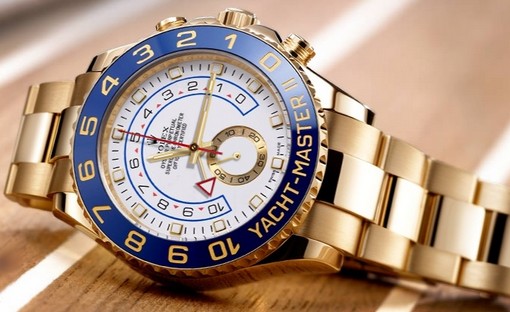 By DAVID  – G M E
https://goldmanwatchexchange.com/wp-content/uploads/2014/08/rolex-daytona-gmt-master-ii-yachtmaster-ii.png
300
700
GOLDMAN WATCH EXCHANGE
https://goldmanwatchexchange.com/wp-content/uploads/2015/07/goldman-watch-exchange-logo.png
GOLDMAN WATCH EXCHANGE
2014-08-05 17:40:14
2020-03-27 23:02:15
Top 3 Best Selling Rolex Watches | Daytona, GMT-Master II and Yachtmaster II