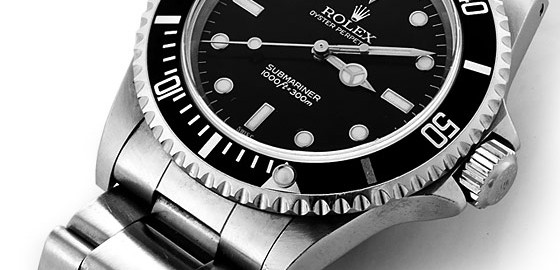 The Rolex Submariner
There are few status symbols more coveted or revered than a Rolex watch. It is at once a decadent indicator of a man's success and a rugged, yet tasteful, timepiece. And when one thinks of a Rolex, the image that most likely comes to mind is the Submariner. Introduced as a durable dive watch designed to withstand extreme conditions, it was the go-to timepiece for the 1960s scuba set and later found its way onto the wrists of preppy boating types. The Sub, as it's been nicknamed, has since evolved over 58 years and 11 iterations into a modern classic favored by men both on land and at sea.
The key to the Submariner's success begins with the airtight Rolex Oyster case—first developed back in 1926—which is stamped from a solid block of corrosion-resistant stainless steel (or platinum or gold). Inside, more than 220 individual parts work with the perpetual rotor to self-wind the Swiss-made watch. The option for a date window was added in 1969, which beefed up the case (and the price) and transitioned the Submariner from a specialized sport watch to more of an everyday timepiece. Today, vintage Subs have gained a cult status among the style set and certain distinguishing features—original, thicker bezels and red "Submariner" labels on the dial—can mean paying up to $40,000 for one of these beauties. But even buying one brand new, the watch is an instant heirloom.

AN ICON AMONG ICONS Proud past owners include James Bond (in 11 different films), test pilot Chuck Yeager, Che Guevara and Steve McQueen, whose 1967 Submariner 5512 sold for $234,000 at auction.
480 – The number of times the sweeping second hand ticks per minute.

To differentiate a genuine model from a counterfeit, Rolex now adds such security features as a microscopic crown logo laser-etched into the crystal at the 6 o'clock position.
read entire & original post here: By CORY OHLENDORF
https://goldmanwatchexchange.com/wp-content/uploads/2014/06/art-rolex-submariner1.jpg
625
560
GOLDMAN WATCH EXCHANGE
https://goldmanwatchexchange.com/wp-content/uploads/2015/07/goldman-watch-exchange-logo.png
GOLDMAN WATCH EXCHANGE
2014-06-23 22:41:09
2020-03-27 23:02:19
Anatomy of a Classic – Rolex Submariner